Brandon Teachey is the Lead Pastor of JMC. His heart is to see people transformed through a personal relationship with Jesus Christ. Each week his inspiring messages challenge, yet encourage hundreds of people to grow closer in their relationship with God. He is known for his practical and dynamic teaching styles which help people apply the timeless truths of Scripture to their every day lives.

Pastor Brandon is native to eastern North Carolina. He is committed to bringing Jesus to his local community in an understanding and relatable way. He graduated from Heritage Bible College with a Bachelor's Degree in Biblical Studies with a focus in Missions and Evangelism.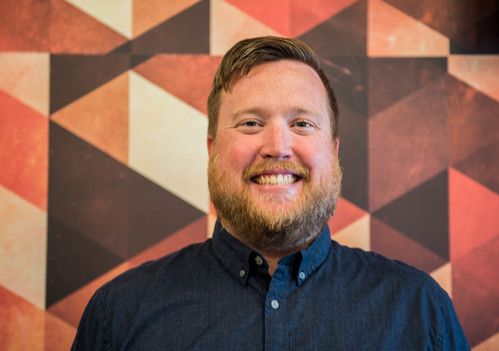 Pastor Jonathon serves as the Executive Pastor at JMC. He graduated from Sterling College with degrees in Religious & Philosophical Studies, Christian Ministries, and Business Administration. He is currently working on his Masters in Ministry. He brings many years of full time ministry experience to JMC and has served in many areas including youth, young adults, discipleship, and small groups, as well as work within the financial sector. His desire, mission, and passion is seeing others come to experience Jesus in a very real way while also discovering God's will in their lives. He is excited to be a part of the growing community at JMC and what God has in store for the future!

Pastor Jonathon is originally from Kansas but now resides in Eastern North Carolina. He and his wife, Tiffani have have two daughters, Aaliyah and Fynlee, along with two giant golden doodles Penny and Sheldon.
Terry Byrd is the Administrative Assistant and facilitates the business tasks of the church. She assists our Pastoral team to achieve the goals of seeing people "transformed through a personal relationship with Jesus Christ."

Terry has attended JMC her entire life and is a dedicated member. She retired from the Harnett County Schools after a 30-year career as executive assistant to various principals, superintendents, and the Harnett County Board of Education. She is a servant leader who aspires to serve others as Christ commands and is a prayer warrior who prays until there is a breakthrough. She is the proud mother of two sons who also serve in ministry at JMC. Her three grandchildren and daughters-in-law round out this Christian family who always put God first.
Together, Hugo and Leslie serve as the middle and high school leaders at JMC. Investing in JMC.Students is a passion they have to lead the next generation. They thoroughly enjoy growing God's Kingdom through His Word, discipleship, worship, and prayer, all while building relationships that last a lifetime with the students.

Leslie and Hugo have two children, Darin and Jayden, They have served in ministry together for over many years, both internationally and locally. In their professional life, Hugo has worked with The Neuse Termite and Pest Control and Leslie is in the banking industry and works at AgCarolina Farm Credit. Both Hugo and Leslie strongly feel that their work field is also their ministry field. Above all, leading others to Christ is their number one goal, daily.
JMC.Kids Leader - Elementary
Becky leads JMC.Kids ministry Kindergarten through 5th grade. She has a passion for creating solid and developmentally appropriate learning environments for kids, which assists in guiding children to make Jesus their Savior and in teaching them how to live for Him.

Becky graduated from Longwood University and Southwestern Seminary. She has served children and their families in various capacities through the local church (large and small) for over 20 years. She is humbled and thankful for the calling God placed on her life many years ago to serve His children. Becky's husband, Mickey, has been her "partner" in ministry since November 1999. After ministering to other people's children for several years, they had their own! In 2015 they moved to the Raleigh area and reside near Garner.
JMC.Kids Leader - Nursery / Preschool
Heather leads the JMC.Kids ministry for Infants – PreK. God has led her on a path to serve the children of this wonderful community. In our nursery and preschool classes, Heather teaches God's love through music, crafts, games, and reading the Bible.

Heather and her husband, Kenny are dedicated members of JMC and serve in several areas. Kenny actively serves on the security & parking team and Heather is also one of our beloved JMC.Preschool teachers. They reside in Angier with their two beautiful daughters.
JMC Creative Director & Event Coordinator
Katie is our Creative Director & Event Coordinator. She is trained in graphic design & interior design and brings her talent and expertise to our team. She creates a cohesive brand within our ministries, events, graphics and overall environment. She also manages our website and social media.

Katie and her husband, Brandon, live in the McGees Crossroads area with their two sweet little girls. They are active members of JMC and are passionate about being servants to see God's Kingdom grow in our community.
Sara has a heart for educating children. With a formal background in Elementary & PreK education, Sara brings a wealth of knowledge and skills to the JMC.Preschool team. She is very proud of the ministry that has been built by many at JMCP and feels extremely blessed with a staff who love Jesus, love children, and love teaching children about Jesus.

Sara has lived in this community for over 20 years and her family currently resides in the Cleveland School area. She and her husband, Kevin are dedicated members of JMC and they both serve in many capacities.
Barry & Jo Anne Honeycutt lead our LifeGroup discipleship. They mentor, encourage & coordinate our LifeGroup leaders & hosts. They are dedicated members of JMC and serve in many capacities. Barry has been the Chair of our Board of Directors and led our church with grace and compassion.

The Honeycutt's have a well-respected career in education and agriculture in Johnston & Wake County. Serving as Principal, teacher, coach and CTE director, both Barry & Jo Anne are passionate about our youth and community. They have two adult daughters who also attend JMC. They are also local farmers in our community and have a weekly produce market, Honeycutt's Produce Basket.