Jesus said, "Let the little children come to me..."
Our mission is to first and foremost love, serve and honor our Lord, Jesus Christ. We strive to instill into each child the love that Christ has for them and to be role models of Christian values. We aim to provide children with learning experiences that will help them develop strengths & skills necessary to prepare them for their next school environment.
We serve children from age 2 until they start kindergarten. The preschool follows the same holiday, vacation and inclement weather schedules as the Johnston County Public Schools traditional calendar, September - May. The hours of operation are 9:00am - 1:00pm, Monday - Thursday.
Two Year Olds
(2 days a week)
Monday /Tuesday or Wednesday/Thursdays
Three Year Olds
(3 days a week)
Tuesday - Thursday
Four Year Olds
(4 days a week)
Monday - Thursday
REGISTRATION BEGINS MARCH 1
Download all 2022-2023 forms here. Print out, complete and return to JMCP.
JMCP
Handbook

JMCP
Registration Form

JMCP
Information Form
Financial Agreement
Questions?
Contact our Preschool Director,
Sara Stewart
We know that consistency gives children security. We have a daily schedule of activities that help build trust between children and teachers. The daily schedule includes a balance of activities to help each child grow physically, emotionally, socially, intellectually and spiritually. The daily schedule will be determined by your child's class. You will receive classroom specific documents at your child's Open House.
Morning Play/Table Top Activities
Morning play offers an opportunity, as the children arrive, to enhance their ability to socialize, share and take turns. During table activities, the children are offered a variety of hands-on activities and manipulatives to help with fine motor skills and organizational skills like sorting, counting, matching, shape recognition, etc.

Music Time
We meet in the Fellowship Hall each day for Music Time. This is when the Morning Prayer and Pledges are done, followed by music and movement time. This time is used to teach songs and introduce the children to musical instruments. They are taught Christian songs as well as a variety of other songs by a designated teacher.

Snack
The children will eat snack each morning. Each age group has an individual plan for how they will handle snack throughout the school year. Please inform your child's teacher in advance if you are planning on bringing in a special snack to celebrate a birthday, so that food allergies or sensitivities may be made aware of.

Lunch
Parents will need to send a finger food lunch including a drink in a thermos or a juice box. Please make certain that your child's juice container is leak-proof. Also please do not send any foods that need to be heated. Remember to send a fork or spoon if needed. Please remember to make us aware of any allergies for food sensitivities.
Circle Time and Morning Meeting
Circle time is a large group activity that the children participate in each day. The children listen to stories, share experiences, sing songs and listen to music that will supplement the topics they are learning every week. During this time, they will discuss the weather, the seasons, calendar concepts, counting, letter/s of the week and review.

Outdoor Free Play
A fenced-in playground with swings, slides, and toys are provided during free play. Daily free play is important for social, emotional, and intellectual growth. The outdoor free play allows students to get out some extra energy and increases attentiveness in the classroom.

Class/Center Time and Bible Teachings
Throughout the day, children will be provided with hands-on learning activities using themed units to introduce colors, shapes, number recognition and values, letter recognition and sounds, days of the week, months, seasons, music, art and holidays. Through the use of centers students will learn how to work independently and in a small group to complete a task. There is also an emphasis on social adjustments. A Bible story will be shared/taught and discussed with the children each day. They will participate in a weekly craft and daily teachings from an age appropriate bible.


I have a heart for educating children. With a formal background in Elementary & PreK education, I bring a wealth of knowledge and skills to the JMC.Preschool team. I am very proud of the ministry that has been built by many at JMCP and feel extremely blessed with a staff who love Jesus, love children, and love teaching children about Jesus. I have lived in this community for over 20 years and my family currently resides in the Cleveland School area. My husband, Kevin and I are active, dedicated members of JMC and serve in many capacities.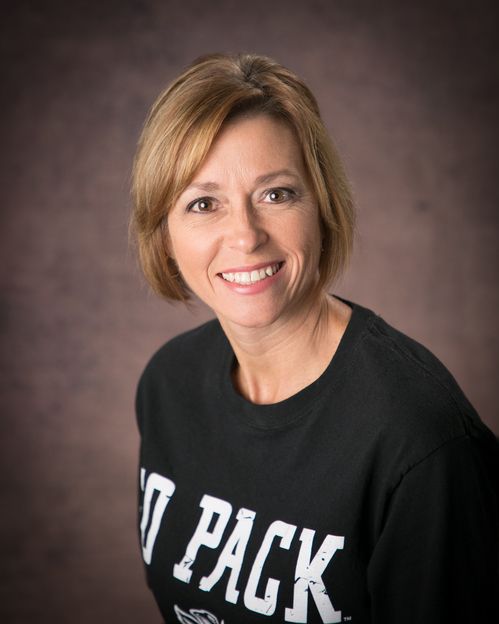 I was born and raised in McGees Crossroads. I have attended JMC my whole life and serve in many areas of ministry. I started at JMCP when my boys were little and it has been a blessing.
I have been a teacher at JMCP for 18 years. My family and I are members at JMC and we love the Lord. My husband, Jason and I, have two boys (Austin and Dillon) that both attend college at Shenandoah University in VA. They are both College Baseball players and are the joy of my heart! I was called to teach when I was very young and after I had my boys God called me to JMCP. Once I knew teaching preschool was my life's calling I went back to college and got my Certification at Wake Tech to teach Preschool. I am honored and blessed daily to love on and teach children about Jesus and his love. It's one of my life's greatest blessings to teach!
I have been teaching at JMCP since 2015. I started my teaching journey in 2002. I am a member of Shiloh Baptist Church where I serve as the Children's Ministry and VBS Director. I am a proud Mommy to two beautiful girls.. I am happily married to my husband Jeremy for 11 years. When I am not teaching, I enjoy volunteering at my girls school as the PTA President, crafting, and spending time with my family. I have always wanted to be a teacher since I was 5 years old, and I am so grateful God can use me in this ministry.
I enjoy teaching children on the level where they are! I love seeing them grow spiritually and academically.
I was born in Maryland but grew up in a small town of Virginia. I am the proud mother of one son, Dylan, who is now in college and a dedicated wife to my amazing husband, Jeff, of 30 years. We are an adventurous, fun, loving family. I attended the University of Virginia. I worked in Procurement and Contract Management until the birth of my son. I always knew, even at a young age, that God was calling me to be a teacher. I finally began my teaching journey in 2009. I am proud to call JMC my home church and beyond blessed that I have been working as a preschool teacher at JMCP for 8 years. My goal is for every child to feel safe and loved while growing both academically and spiritually.
My first passion is for Jesus. I embraced my relationship with our Lord at a Billy Graham crusade when I was 16. He has blessed me so much since. I have been blessed with a husband of 25 years. We met while I was at Nyack Missionary college located on the beautiful Hudson River in NY. God blessed us with 4 children and a son in law. My oldest daughter Jessica and her husband Mike recently graduated from Mid Atlantic Christian University. Our son, Thomas went to be with the Lord last year. Our girls Alessandra, 12, and Samantha, 9 yrs old, attend Southside Christian school in Clayton. God first called me to teach over 16 yrs ago, and in 2016 has blessed me with a home at JMCP. I am always excited to see how God will bless me next.
I am Johnston County native and proud graduate of The University of North Carolina at Wilmington. I have been a part of JMCP preschool since 2016 and love every aspect of teaching little ones. I believe in fun and creative learning, lots of hugs and encouragement, and silly band-aids. In addition to teaching preschool, I am involved in different children ministries within my church. I am married to my husband, Tim, and we have two children, Noah and Lily. Although, my children's extracurricular activities keep our family busy we do enjoy swimming and RV camping in our spare time.
I've lived in Johnston county pretty much my whole life, and I've wanted to be a teacher ever since I was a little girl. Up until this year, I've been doing just that at the elementary school level, but have always loved preschool age children. I have a wonderful husband that always supports my dreams, and a beautiful black cat that can do no wrong in my eyes. I love all things Disney, Broadway musicals, and Christmas (decorations go up mid-November). I'm so excited to teach young hearts about Jesus and help lay the groundwork for their education and future!
Heather leads the JMC.Kids ministry for Infants – PreK. God has led her on a path to serve the children of this wonderful community. In our nursery and preschool classes, Heather teaches God's love through music, crafts, games, and reading the Bible. Heather and her husband, Kenny are dedicated members of JMC and serve in several areas. Kenny actively serves on the security & parking team and Heather is also one of our beloved JMC.Preschool teachers. They reside in Angier with their two beautiful daughters.
Hi! My name is Ashley and I am originally from South Florida. I have lived in NC with my husband since 2010. We have two amazing children named Ayla and Darren and a big chocolate lab named Remi!
I absolutely love my job, it is such a blessing to be a part of each child's preschool day. I love to make them laugh and see their excitement when learning something new. I love to bake, decorate, go to the beach and ride skateboards with my kids! God is good! He always provides and I am so blessed for all he has done.
I live in the McGee's Crossroads area with my husband, Mike, and our two little girls. Before joining our wonderful staff two years ago, I was a substitute teacher for our local school system. I strongly believe in the importance early childhood education and feel so blessed we can share the love of Jesus in our Christ-centered preschool. Children of this age are such a joy to watch learn and grow and I am thankful to play a small part in your child's journey. In my spare time I love to cook and especially bake for my family and friends. I also enjoy cleaning and organizing which certainly has its advantage in our environment!
I have lived in Virginia my entire life until I met my husband Adam in 2012. I am an Army spouse, and we have 2 amazing kids; Cambree (6) and Blane (4). We have been back in NC for 2 years now. We enjoy going to church here at JMC. I love spending time with family/friends, shopping, working out, the beach, going out on the boat, and being a mom! This will be my first full year as an assistant teacher at JMCP and I am excited to see your children grow!
I was born and raised in Johnston county and I have 3 children and 6 grandchildren. I taught Sunday school for 30 years at my church Mt Zion UMC. Two of my grandkids went through this preschool program and that's when I learned what a special place this was, and how much love is given to each child from everyone. In 2015, my husband passed away and during a very difficult time, God opened the door for me to become an assistant at JMC Preschool. It has been such a blessing to be part of a loving and caring, christian preschool.
Hi! My name is Christina Johnson.
We'd love to hear from you. Fill out the form below to get started.